Announcements
TriborArge Firması bünyesinde bulundurduğu UTS Tribometre ile WESCE'19 Fuarında ...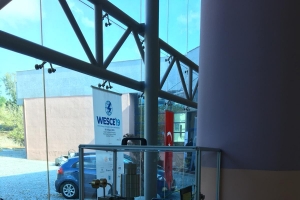 Tribor R&D Company has been participated to WESCE'19 Fair with UTS Tribometer ...
26-28 Ağustos 2019 tarihleri arasında Yıldız Teknik Üniversitesi bünyesinde gerçekleştirilen WESCE'19 (Dünya Enerji Stratejileri Kongresi ve Fuarı) organizasyonuna bor katkılı yağlayıcılar üzerinde çalışan Tribor-Arge Firması (
https://triborarge.com
), UTS Tribometre ile katılarak kendi ürünlerini ve yaptıkları tribometrik testleri ilgililere gösterdiler.
Tribor R&amp D Company (
https://triborarge.com
) working on developing new lubricants with boron additives has been participated to WESCE'19 (World Energy Strategies Congress and Exhibition) between 26-28 August 2019 with UTS Tribometer. They have been showed their products and tribological tests on their lubricants.